Glass Cleaner Pro windows cleaning robot
Glass Cleaner PRO is the innovative windows and glasses 'cleaning robot produced by LineaTielle. This new cleaning system lets you enjoy a perfect tidiness with no stripes or rings. Glass Cleaner PRO has been equipped with a safety system making it the ideal cleaning product in both home windows and glasses and in professional applications like:
Cleaning of windows;
Cleaning of inside and outside windows;
Cleaning of mirrors;
Cleaning of solar panels.
It cleans all type of vertical surfaces
The Glass Cleaner PRO's aspiration motor makes two functions at the same time: as the robot sticks every vertical surface in a perfect and safe way, the microfiber rug cleans deeply, and you can enjoy the ideal cleaning performance.
Glass Cleaner PRO can boast an innovative double rag cleaning system: the pad lying on the front part of the robot is assembled on a swinging flat surface for a deep cleaning of the surface, while the second rag cleans and dries.
The 5 safety sensors on the Glass Cleaner PRO can detach any obstacle and they can clean surfaces without any frame like mirrors, large glazed walls and solar panels, too. A sound signal warns you that something is wrong and that it could be dangerous.
 Front swinging flat surface;
Tracks 'cleaning system;
5 safety sensors;
Danger sound signal;
Safety supporting battery.
2 programs for an insuperable tidiness
The Glass Cleaner PRO exploits a clever cleaning system letting you enjoy windows and glasses always tidy: as you first start your machine, the robot checks the perimeter of the area, then it chooses the most convenable program and it starts working.
There are two working programs: the "N" program optimizes the washing and cleaning action on vertical surfaces, while the "Z" one is the ideal system in cleaning large horizontal surface. You can program Glass Cleaner PRO by your provided remote control and it's a done deal!! Only one click to have windows and mirrors clean and brilliant. Glass Cleaner PRO is the only windows washing robot assembling a specific program for track's cleaning in order to get a perfect cleaning performance with no stripes and rings.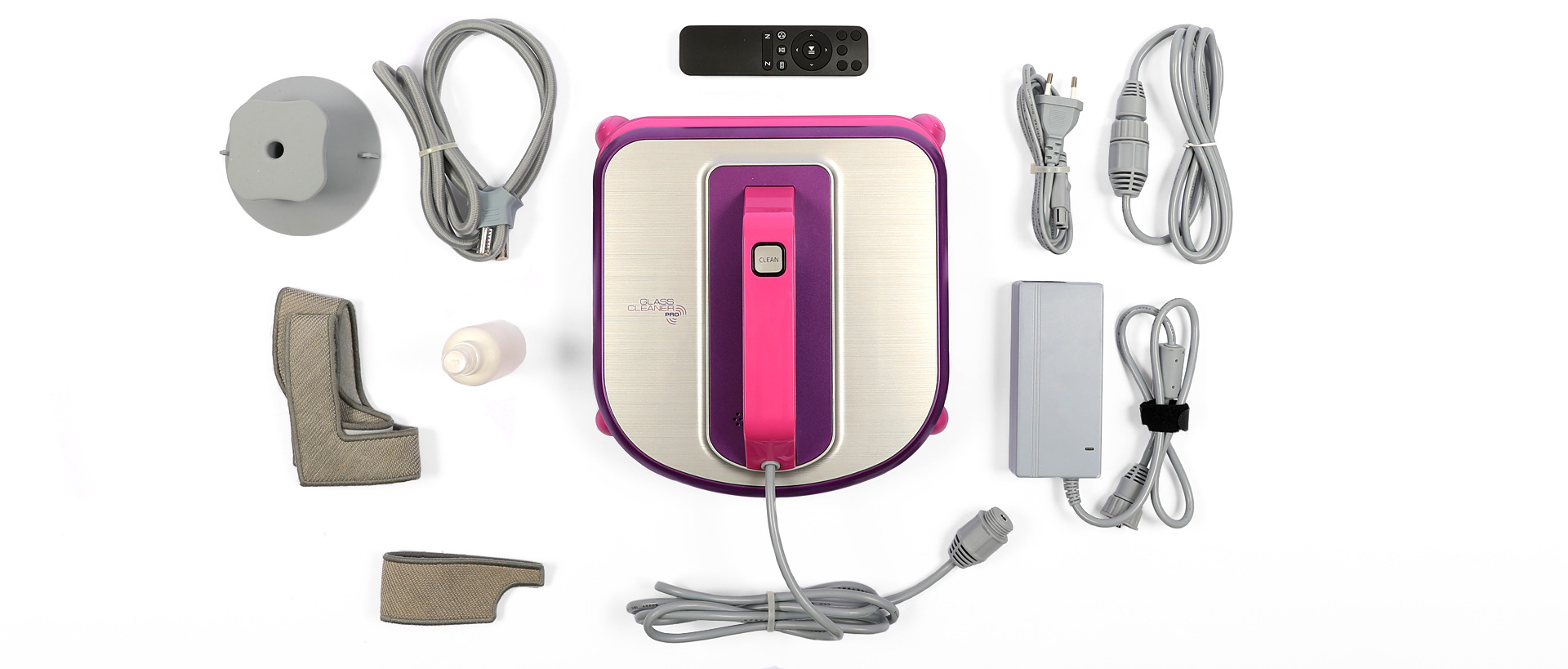 Glass Cleaner PRO has got 2 safety systems, the electric one and the mechanical one . The lithium supporting battery starts working when the main power misses. This battery has enough power to supply the machine until the main fuelling has been recharged or the machine has moved away from the working flat surface.
To prevent the risk of falling in hard working spaces, like exposed area, the machine has been equipped with a safety cable.
| | |
| --- | --- |
| Name | Glass Cleaner PRO |
| Power supply | AC |
| Supporting battery | Lithium 650mAH |
| Autonomy | No- limits |
| Aspiration power |  75W |
| Sizes | mm 250x250x80 |
| Weight | Kg 1,35 |
| Control | Remote control |
| Working programs | N program, Z program, Tracks cleaning program |
| Sensors | Obstacles, borders, void |